Buy Physical Comics
http://waywardink.bigcartel.com/
About the Artist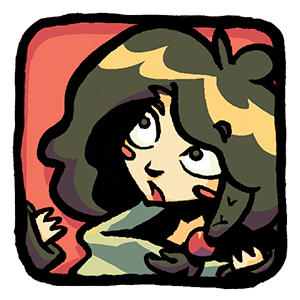 Rachel Eady (Previously Rachel Boyes) AKA Khaiya likes stories, tea, and has many dreams. Independently she writes and draws comics, and tries to make games.

I have 3.5 years experience in game development at Disney Interactive. I've also spent time on personal game dev, scripted and drawn both published and personal comics, and taught Perspective and BG drawing at Langara and CATO. More recently I've been working in BG Layout for animation for 3.5 years at WildBrain and Titmouse and am now also a mom!

Artist Links
About the Webcomic: Bounty
Bounty is a Webcomic.
Two friends, Hazel and Jun, turn to bounty hunting to find, reclaim and return what they owe to a truly terrifying debt collector.

Special thanks to Daniel Eady for some co-writing, support and consultation!
Bounty Comic Links